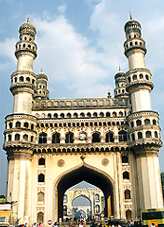 Often described as a link between north and south, Hyderabad occupies a unique position on the map of India. The city had its humble beginning in a mud fortress built by Kakatiyas of Warangal in the 11
th
centuary AD on a hill called Golconda. In the 14
th
century, Golconda went to Bahamani kings. From 1518 to 1687 Qutub Shahi kings ruled Golconda.
Muhammed Quli Qutub Shah was the founder of the present day Hyderabad. Golconda's overcrowding and water shortage forced the king to lay the foundations of a new city that he named Bhagyanagar after his Hindu courtesan Bhagmati. The name was changed to Hyderabad when she became his wife and changed her name to Haider Mahal.


When Aurangazeb invaded Golconda, Hyderabad was blossoming with palaces and gardens of the Qutub Shahis. With the arrivals of Mughals, Asaf Jahis became the rulers of Golconda and developed the city by adding palaces, gardens, educational and social institutions, public buildings etc. In 1798 Nizam II, the second Asaf Jahi ruler, signed a treaty with the British East India Company that resulted in stationing British troops nearby. The British chose a place near Hussain Sagar and became instrumental in building Secundarabad, the twin city of Hyderabad.

| | | |
| --- | --- | --- |
| | | |
After independence, Hyderabad State was brought into the Indian Union. In 1956 Hyderabad became the capital of Andra Pradesh. It is India's sixth largest city and a major industrial and educational center. While Telugu is the official and native language, a dialect Urdu called 'Deccan' is widely spoken. Usage of Marati, Kannada, Tamil and English has given the city a multilingual character.